Becoming a writer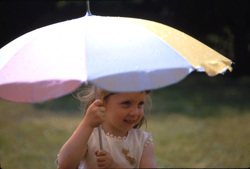 Yvonne at age 4
Yvonne is the author of Black Flowers, White Lies (Sky Pony Press, 2016), Pandemic (Sky Pony Press, 2014), Avril Lavigne (Lucent Books, 2007), and Publishing (Lucent Books, 2005). She's also had short stories selected for anthologies: "The Art of Remaining Bitter" in Hero Lost: Mysteries of Death and Life (2017), "Escape to Orange Blossom" in Prep for Doom (2015).

She grew up in the suburbs of Long Island. Her quest for publication began in middle school when she asked the librarian for information on how to physically create a book. Writing was fun, but how do you actually get those words into bound pages? The small library didn't have any materials about that, and it would be many years before Yvonne achieved the goal of writing a published book.
---
| | |
| --- | --- |
| | Yvonne majored in English and Computer Science -- an unusual combination, but when she was stuck on a literature assignment she could debug her programs, and when that got boring she could write an essay. That strategy worked well and she graduated with honors from Hofstra University, followed by her MBA from NYU's Stern School of Business. Her post-college life was divided into two phases: life in the corporate world and later, life as a writer. |
She definitely prefers phase two. During her writing career, Yvonne has written instructional video scripts about technology, numerous articles for children and adults, a nonfiction book for teens about careers in publishing, and a biography for teens about the singer Avril Lavigne. But her real love is fiction, and after several attempts at writing a novel, she created a story about a contemporary bird flu pandemic.
Actual pandemics

are a realistic possibility. For example, a swine flu pandemic occurred in 2009. Fortunately, although that virus was widespread, it wasn't particularly lethal. But what if the virus mutated into one that was extremely contagious

and

caused a high death rate? What if it didn't start in Asia, the way some experts expect, but in the US? And what if a teenage girl who was recovering from a disturbing trauma became separated from the only people she could trust? Could she survive in the midst of death and disaster?
These types of questions were the basis for

Pandemic

, which was published in 2014 by Sky Pony Press. In 2015,

Pandemic

won a

Crystal Kite Award

from the Society of Children's Book Writers and Illustrators.

In 2016, Sky Pony Press published Yvonne's second YA novel,

Black Flowers, White Lies

. Buzzfeed listed this psychological thriller first in their list of

"must read" novels for fall, and the book received an IPPY Gold Medal for YA Fiction in 2017.